Digging and preparing the ground
Page Last Updated: 20:20 - 10/10/2002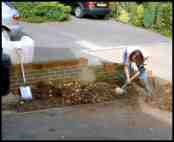 OK so I went a bit mad and dug out all the area, which was only about 3 ft by 12ft to a depth of about 5inches in about 20 minutes.

After some trampling on the soil which was quite good quality as opposed to the clay in the rest of the front garden, we managed to lay the black plastic weed resistant membrane about 1 hour after Kevin left.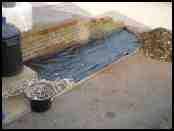 We used our usual method to fix the membrane in place, which involves cutting thick garden wire into 6 inch lengths, then bending each length into a U shape, and driving the two points through the membrane into the soil.

This prevents the membrane surfacing after a year or two, which is one thing I hate about some of the garden centres.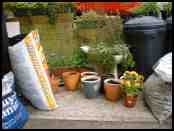 I collected and grew a large number of plants for the garden, and decided to pot the majority of them as my husband is talking of moving.

The pots mean that I can take my plants with me when and if we move. I have bought most of them from our local supplier in Hurst Green , and needed a few large bags of potting compost to finish off.
If you would like to provide an article on your garden we will be happy to post it on the site,
providing you send some photos as well, please e-mail simon@littlegardens.co.uk