Finishing and laying out the pots
Page Last Updated: 20:20 - 10/10/2002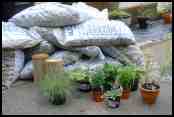 Now to get the stones to match the rest of the front garden, so we wandered around Hastings, only to find that our original supplier only delivers by the 1 ton, and we only need about 1/2 ton of 40mm shingle.

Eventually we found our local garden centre supplied 40Kg bags which worked out about the same price as the 1/2 ton in bulk. 12 bags went in the back of the car, I think it was a bit overloaded but it only needed to travel a few miles.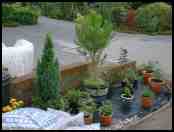 Now for the interesting bit, potting up the plants and then arranging them so they look good.

Large pots and trees to the rear progressing to small pots and small plants to the front. I am just going to lay them out then fill around the edges with the shingles.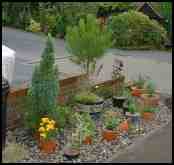 Now some more heavy labour, as I shifted the aprox 1/2 ton of shingle to cover the black membrane. Its looking better as I cover the liner.

Its done as you can see, and it looks good is low maintenance and matches the rest of the front.

It also has that magic property of shingle, that it changes colour if wet, so the garden looks totally different in the rain than in the sun.
If you would like to provide an article on your garden we will be happy to post it on the site,
providing you send some photos as well, please e-mail simon@littlegardens.co.uk