Finishing touches
Page Last Updated: 20:20 - 10/10/2002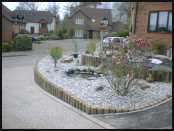 The top terrace I decided to plant with softer, more traditional plants. I had a nice big spotted laurel (Aucuba) in a pot, which has finally got a permanent home, and I re-used my miniature roses, which I had salvaged before the grand clearing session.

I also had a miniature lilac in a pot, which has found a home in the top terrace.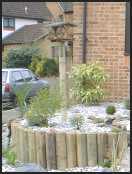 For a long time I had wanted a bird table in the front garden. I do have one in the back garden, fixed to the wall, but it is very rotted now, and I could never put food scraps on it, as I have two Jack Russel terriers, and they would spend all their time trampling all over the border beneath the bird table waiting to gobble up anything the birds would drop!

Now I have a nice bird table out the front that I can use, and I can see it from the sofa in the living room, which is nice. There is even a very pretty pair of collared doves that come down to it.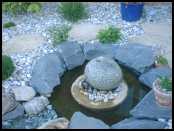 We ended up buying a drilled stone for the water feature. It is almost, but not quite, round, and the water comes out of the top of it and flows all down it's sides then back into the pool.

The pool overflows into the little stream , which runs down the waterfall into the pond at the bottom. The water is circulated by a small pump. We used broken roof slate tiles to cover the sides of the liner in the stream, and slate chippings in the bed of the stream.
If you would like to provide an article on your garden we will be happy to post it on the site,
providing you send some photos as well, please e-mail simon@littlegardens.co.uk