Starting to plant
Page Last Updated: 20:20 - 10/10/2002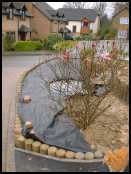 We filled the pond with water, and to our delight a large frog took up residence in it the very next day.

Mid April, and at last the bottom terrace was covered with the black plastic, and ready for the bit I had been really looking forward to - the planting. I had decided that it was better to do one terrace at a time, as the top terrace needed a bit more soil to fill it up, and so I could use the soil dug out of the lower terrace planting holes to do this.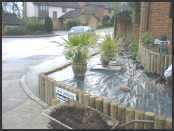 The planting was actually one of the cheapest parts of the job, as I already had quite a few plants in pots in the back garden that I could use.

These included a hardy palm, (Chamaerops humilis), some lilies and agapanthus, a cordyline, a yucca and a couple of phormiums. I did splash out on two more small hardy palms at £19.99 each, a small Witch hazel tree, (Hamamelis), at £9, and an even smaller Magnolia Stellata at £10.

Most of the other plants, like the ornamental grasses, cost around £1.20 each from the plant stall at Battle market.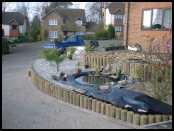 Meanwhile we had finally decided to "finish" the garden with pebbles. Initially I ordered three tonnes, which cost around £110 from a builders merchant. This was enough to cover the bottom terrace, but clearly I did not have enough left to cover the top terrace.

I finally ended up shifting four and a half tonnes of pebbles single-handed! I think my back probably hurt as much as my husbands did by the time I had finished.

Still, I did lose nearly half a stone in weight - that was a bonus!
If you would like to provide an article on your garden we will be happy to post it on the site,
providing you send some photos as well, please e-mail simon@littlegardens.co.uk