Finished all except for growth
Page Last Updated: 20:20 - 10/10/2002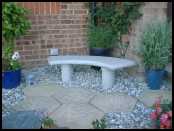 We put a little concrete bench in the corner between the porch and the front wall of the house, re-utilising some hexagonal slabs we already had. We put some in front of the bench to form a mini patio area, and used the remainder as stepping-stones to the bird table.

This bench is a lovely spot to sit and watch the water flowing. It is nice and sunny in the morning, and in the afternoon it is nice and shady when the sun can be overly hot.

To add a touch of humour to the garden-an essential ingredient in my book-we have placed three ceramic fish swimming across the pebbles away from the pond. In keeping with the beach theme there is also a "message in a bottle".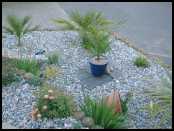 Apart from a few twiddly bits the garden is nearly finished now. Well, having said that, a garden is never really finished-there is always something. My husband wants to wire in a few lights. I add an extra little plant here and there when he is not looking! ("We're not going to have any more plants in the front garden, are we? " - "No dear, of course not!"). We are looking forwards now to seeing the plants grow and mature, and I am really enjoying not having a front lawn to mow!

While we were doing the garden it was just amazing how many people drove up in their cars to "have a nose." Word had obviously got around that some loonies were doing something fairly radical with their front garden. Whether they were expecting to see Alan Titchmarsh, Charlie Dimmock and Co., I don't know. They must have been quite disappointed just seeing my husband and I!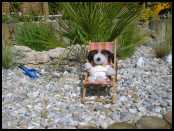 Most of the comments we have had about the garden have been very favourable. We had one "not sure", and one neighbour said - "That's not a garden, it's a beach!" We just responded with, "Yes, but at least we don't have to mow it!"

What's wrong with having a beach, anyway? I love the beach, and so I think do most other people. It stirs happy childhood memories of hot sunny days and long summer holidays, - which seem to get shorter and shorter the older you get! Now I have got my beach all year round, and I don't have to travel anywhere to get to it, and I love the sound of walking on the pebbles. Also another thing I love is the way the pebbles change colour when it rains. They change from light to dark. There is so much to look at and enjoy.
If you would like to provide an article on your garden we will be happy to post it on the site,
providing you send some photos as well, please e-mail simon@littlegardens.co.uk