Transformation from mud pile to a terraced garden
Page Last Updated: 20:20 - 10/10/2002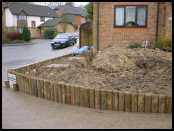 Early March it was finally dry enough to get started on. By this time we had changed our minds from brick retaining walls for the terraces to pressure treated wooden posts. These we thought would look less harsh, and also would allow for the curving lines we wanted rather than straight walls.

Again, because of the time factor, we decided to get Kevin to put the posts in. He did an excellent job, and did in a week what it would have taken my husband a month or more of weekends to do.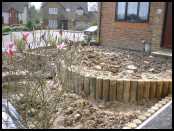 At this stage the soil was still very heavy and sticky, and so the next job was to dig in a load of horticultural grit. My husband dug out the pond and water feature, and in doing so "did his back in", and so it fell to me to do most of the rest of the work on my own!

Digging in the grit was very heavy going. I dug in a ton of it, and I must say it did seem to have a good effect on the drainage situation straight away.

Next job was to line the pond stream and water feature, which at this point just consisted of a small header pool on the top terrace. The waterfall is a fibreglass one, discarded by a neighbour, and so it cost us nothing!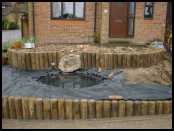 We got Kevin to cut down a few of the posts where it was to go, and it slotted in a treat. We edged the pond and pool with rocks bought from a local garden centre.

To suppress any weed growth we next covered the ground completely with black woven polythene. This cost £80 for a roll 1 metre wide by 100 metres long. We haven,t used all of it, but it was cheaper to buy a whole roll than the amount we would have actually needed at £1.49 per metre. We pegged the plastic down with pieces of bent garden wire, and stapled it around the log edges with a staple gun.
If you would like to provide an article on your garden we will be happy to post it on the site,
providing you send some photos as well, please e-mail simon@littlegardens.co.uk