Transformation from sad Jungle to mud pile
Page Last Updated: 20:19 - 10/10/2002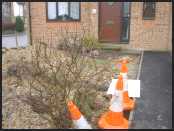 Kevin came along at the beginning of September, and with a helper he had the job done in a day - and, I might add, at a very reasonable price.

All that remained were three plants - a rambling rose growing up over the side end wall and shed, a clematis my daughter bought for me one birthday, (chopped back to a stump by my husband), and last, but not least, my beautiful "Susan" magnolia, which I gave very strict instructions must not be touched under any circumstances!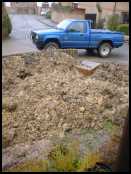 What a difference - suddenly the front garden seemed much larger.

Next came a very frustrating time, for as you may well remember - it rained. Then it rained, and it rained some more, and then some!

The garden soil is very heavy clay and it was too wet to do anything with, and so we just had to abandon plans to do anything until it dried out. Still, it did give us time to think up a few ideas.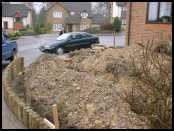 I am not one of those people who can plan a garden down to the last minute detail in advance. I just have ideas, which develop as they get put into action, and so the end result can sometimes be as big a surprise to me as to everyone else!

Anyway, we decided we wanted two flat terraces, to do away with the slope of the garden. I wanted a pond, and my husband decided that he wanted a little stream, and a waterfall to run down from the top terrace to the pond on the bottom terrace.

I wanted low maintenance plants, and lots of spikey ones - what these fashionable gardening programmes would call "architectural"! I wanted palm trees, phormiums and ornamental grasses. Most importantly of all I wanted NO LAWN! I wasn't sure what to have in it's place at this stage, possibly gravel - definitely some kind of stones.
If you would like to provide an article on your garden we will be happy to post it on the site,
providing you send some photos as well, please e-mail simon@littlegardens.co.uk