Transforming the front garden
from sad jungle to happy beach!
Page Last Updated: 20:19 - 10/10/2002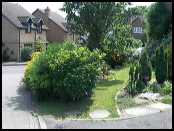 I was never very happy with the front garden. It consisted of a load of overgrown shrubs, a tree we hated, which every year got diseased and shed it's leaves prematurely, and a bit of grass.

I wouldn't have the nerve to describe it as lawn, as it was full of weeds, despite several attempts to get rid of these, and having to drag a mower round from the back of the house to mow it every week was a real pain in the butt!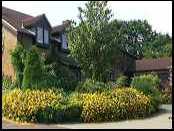 Most of the plants had been put in by a landscape firm contracted by the builders of the estate. I don't know what it is with these people, but they always seem to put in too many of the same plants for my liking, and also plants that all too rapidly outgrow their allotted space.

Well, "the crunch" finally came last year. I had been ill the previous year, and so two summers went by with me being able to do very little in the garden. Consequently the already overgrown shrubs became even more so!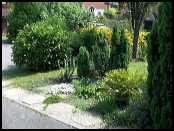 Looking at the mini jungle our front garden had become it seemed a daunting task to undertake. My husband works in London, and so there is the added disadvantage that he is not at home long enough most days to do anything to help - added to the fact that he is not at all keen on gardening anyway!

We finally decided that the best thing was to get someone in to completely clear the garden for us, and so we contacted local lad Kevin Longhurst.

I went round the garden first and potted up a few plants that I myself had added, and wanted to save for the re-planting. These mostly consisted of miniature roses, of which I am very fond!
If you would like to provide an article on your garden we will be happy to post it on the site,
providing you send some photos as well, please e-mail simon@littlegardens.co.uk