(a classic English Garden - Walls and Borders)
Page Last Updated: 20:19 - 10/10/2002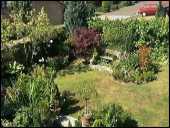 The western edge of the garden is home to our grape vine, which now runs the full length of the wall.

The borders in front of the vine are filled with more plants, usually colourful flowering varieties.

The birds are well catered for along this wall, with a nesting box, bird table and bird bath.

In the south west corner is her favourite area, which consists of a small round border, a bench and a gorgeous red Acer which she has grown from what looked like a twig.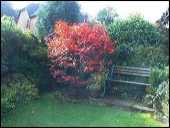 The corner has a slow growing conifer which provides shade to the borders in the late afternoon.

The south edge of the garden provides a cool damp climate, for those plants who love these conditions.

Another Acer sits by the wall, which billows with a Russian vine in the summer.

The frogs like this area, and are always out hunting slugs, which we don't have many of.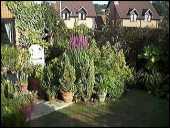 The south east corner is where the patio lies, and also a pond about 6ft x 4ft, although you would not notice through the plants except for the gentle noise of the fountain.

The pond is planted with many water loving plants, and is home to about 12 goldfish and around 15 frogs, and their frogspawn in the spring.

The whole area is covered in pot plants, and hanging baskets, not leaving much room for the patio chairs.

Between the wall and the house wall and behind the brick arch lies a hidden passage, . This is covered with creepers, and smells divine in May when the flowers arrive.
If you would like to provide an article on your garden we will be happy to post it on the site,
providing you send some photos as well, please e-mail simon@littlegardens.co.uk