(a classic English Garden - A general description)
Page Last Updated: 20:19 - 10/10/2002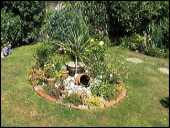 We moved into the house in 1990, and because it was a new house, the garden consisted of a 2 inch layer of topsoil on a solid clay layer. The garden had not been occupied for about 6 months except by 2ft high weeds all over.

It is about 35ft by 35ft, and faces the west, the south and west sides of the garden are mostly brick walled, and the north is wooden fenced.

Wendy is a keen gardener, and over the years she has turned the area from a weed filled wilderness to a beautiful garden.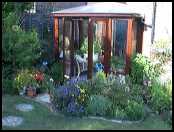 Starting in the north east corner of the garden is the conservatory, which is attached to the back of the garage.

This is always filled with less hardy plants, and some very pretty house plants.

Outside are the steps to the garden, surrounded by borders containing a wide variety of plants. This border only gets the sun in the afternoon to early evening.

On the steps are a large number of pots containing a wide variety of plants.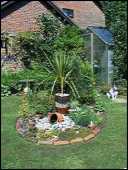 The north side of the garden is a border containing a wide range of varieties from Budlia to heathers. This is the driest and hottest edge to the garden and gets the sun from about 11.00am till late afternoon.

In the north west corner of the garden lies the greenhouse buried under the foliage from the ballerina apple trees, and other shrubs. This is where Wendy carries out her magic.

In the lawn in front of the greenhouse lies the exotic teardrop border, which is home to a range of exotic plants including a peach tree and many pointy sharp plants(I am afraid I am not a gardener). A small pot feature provides water for the insects and birds.
If you would like to provide an article on your garden we will be happy to post it on the site,
providing you send some photos as well, please e-mail simon@littlegardens.co.uk