World of Waters
(How to build a magnificent pond)
Robertsbridge
East Sussex
Page Last Updated: 10:06 - 26/10/2002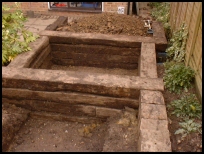 Hi my name is Tim, and I had a fairly mad idea to build a pond in my back garden.

Our garden slopes quite steeply towards the house , then stops at a patio, the soil is retained by old railway sleepers.

To get some ideas I checked out the local water and garden centres and other gardens in the area to get some ideas on what to do.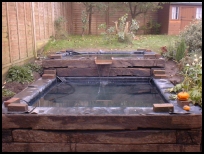 I decided that the best thing to do was to use sleepers to surround the pond and hold the liner in place, so it matches in with the rest of the garden, and I wanted a waterfall to provide movement and airation for the water.

I measured out the area, and decided on a pond adjacent to the patio of about 6ft x 6ft, this size is because a standard sleeper is 6 ft. The depth of 2ft 6inches is to provide an area for the fish I want, so that they can survive a winter where the water freezes.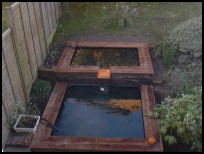 The rear pond was to be 6ft x 4ft and again 2ft 6inches deep, which would provide the source for the waterfall. Each pond has some less deep points for plants which will be in baskets.

I dug out the soil, and layed concrete foundations under the lower pond so it did not decide to slip towards the house under the weight. There were about 70 wheelbarrow loads of soil removed, 50 of which were pushed 150yds up the road to one of the neighbours who was looking to fill in part of his garden. The other 20 barrow loads I have left in the garden for future use.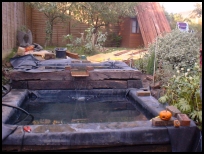 The sleepers were laid and held together with 8 inch nails, offcuts were made using a chain saw for the corner mitres. The sleepers were sealed with an acrylic sealant to try to stop the bitumen used to seal the sleepers, from leaching into the water.

The pond is lined with butyl rubber sheeting one sheet 12ft x 12ft the other 12ft x 10ft laying on top of pond liner padding. A pump is fitted with a capacity of 825 gallons per hour to provide the waterfall, and a dustbin style ultraviolet filter embedded in the ground to the left of the lower pond. All the electrics for the pond go via a circuit breaker into a power distribution box by the patio door.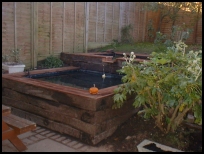 I have had donated some pond plants from our neighbours, which will be planted in the shallow areas. I would like some pond lilies so I decided not have a fountain, as the water splashes burn the leaves in the summer.

All in all I am pleased with the result, one that Gound Force would be proud of, and am looking forward to planting more pond plants, and getting the fish into the pond.
If you would like to provide an article on a garden you have visited we will be happy to
post it on the site, providing you send some photos as well,
please e-mail simon@littlegardens.co.uk