A Students Garden
(Turning a weedpatch into a garden)
Reading
Berkshire
Page Last Updated: 10:06 - 26/10/2002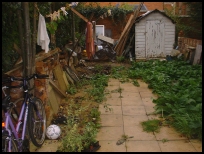 This year our daughter Crystal started her second year of her university course, and moved into a rented house with 3 other students.

To my surprise and delight she said that she wanted to 'do something' with the garden! It's only taken 21 years for someone else in my family to take an interest in gardening, and so I very quickly said that we would be delighted to go up and give her a hand.

Bearing in mind that in the end she will be leaving everything behind for someone else's benefit - or left to revert to weeds if the next tenants are not garden minded we did not want to spend a lot.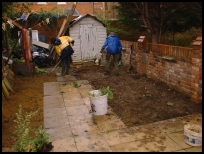 Apart from a few 'cheap to clear' plants and other odds and ends, all the plants were cuttings or divisions from my own garden.

We bought a large bag of potting compost, bonemeal and 6X, a bag each of 40 mm pebbles, pea gravel and agricultural grit. With the few plants I bought it came to about £20.00 . We loaded up the car with the plants, compost etc., and some gardening tools and set off one Sunday morning in the pouring rain.

We arrived about 12:30pm - it was still raining. However we bravely donned wellies and raincoats and set to work to dig out the weeds, of which there were plenty. They were big ones too! We used some old wood to concoct a makeshift compost heap, so that we had somewhere to chuck all the aforementioned weeds.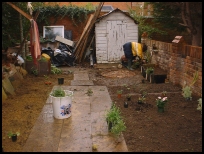 While digging out the weeds we uncovered a little area sectioned off by two rows of bricks. I thought this would be ideal for a mini vegetable patch. My daughter had said she wanted some edible stuff in the garden, and so I had taken up 3 cabbage plants, a few baby leeks, and a few onion sets. These were promptly planted in the mini veg. patch.

Half the garden is paved with slabs, then a slabbed path leads off the patio down the middle of the rest of the garden. To soften the edges a bit we filled in the corners of the beds either side of the path with pebbles, which we laid on a piece of weed suppressing sheeting.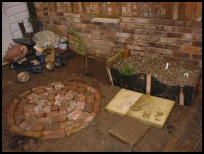 Crystal meanwhile busied herself making a brick circle outside the garden shed, which at the moment is full of junk, but the students hope to eventually be able to keep their bikes in there. As a result of making the brick circle we ended up with a pile of excess soil. Utilising more of the wood laying around we quickly concocted a little raised alpine bed. Crystal planted this up with a few sedums and sempervivums, and with a Georgia Blue Veronica and a purple toadflax to trail over the front edge it should look very pretty next summer. She finished the surface off with the pea gravel.

While she was busy doing that I got the rest of the plants in. A couple of ferns and a scented violet plant on the shadier side. On the sunnier side a buddliah, some montbretia, a few little hebes, some "Oriental Limelight" for nice contrasting foliage interest, a geum, a speckled violet called "Freckles", a mini rose (one of my "cheap to clears"!), Michaelmas daisy, some dwarf crysanthemums, a few ornamental grasses and other odds and ends. Then finally I filled in some of the spaces with a few wallflowers.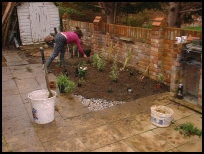 Most of what we put in will die back in the winter, and so apart from a bit of cutting back it will be fairly low maintenance - very important for busy students!

Hopefully it will look very pretty next summer, and will be much nicer surroundings for the B.B.Q.'s they hope to have than the weed patch that existed previously!

I also took a pot of herbs for a housewarming present. It contains sage, rosemary chives and thyme. This of course she will be able to take with her when she leaves. She hopes to plant up a few more pots to brighten up the rather large patio area. It means that any plants she really doesn't want to leave can move with her.
If you would like to provide an article on a garden you have visited we will be happy to
post it on the site, providing you send some photos as well,
please e-mail simon@littlegardens.co.uk