(A fragrant garden to visit with romantic new plantings)
Pashley Manor Gardens can be found on the B2099 between Ticehurst and Hurst Green
about 1 1/2 miles from Ticehurst Village Centre.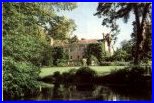 Pashley manor was originally the home of the de Passele family, from 1262 - 1453, who built the original house and moat, which still exists. The estate was purchased by the Boleyn family who owned it until 1543. It is probable that Anne, the second wife of Henry VIII, would have stayed here during her childhood.

The only record of cultivation at this time is the existence of the garden wall built during the 15th Century. Sir Thomas May demolished the old fortified keep in 1543 and built the house you see today. The Georgian facade was added by his family in 1720. The kitchen garden wall was built at the same time, and from that time on, gardening was a serious business at Pashley.

Some of the great oaks in the gardens were planted in the 15th and 16th centuries. The 19th century greenhouse contains many interesting plants. Most of the fine conifers forming the structure of the garden, were planted in the 19th century. Much work has been carried out in recent years, to improve the gardens by adding form and colouring all year round.
Opening times:

The gardens are open from 10th April to 30th September 4 days per week.
For further details phone (01580)-200102.