(The Home of Rudyard Kipling)
Batemans lies down a small country lane in a quiet valley to the south of the village of Burwash , it is run by the National Trust, and is well signposted from the village.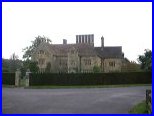 The old wealden manor house was purchased by Rudyard Kipling in 1902, where he lived until he died in 1936. The interior of this wonderful Jacobean House is filled with Kiplings collections of many Oriental Rugs and artifacts he collected while touring the far East. Most of the rooms are as Kipling left them, including his book lined study. They are a delight to view, giving an good impression of a time long past.

The large gardens run down to the small River Dudwell, and are laid out as much as they were in Kiplings time with roses, a wild flower area, and a formal herb garden. The gardens are very peaceful, and are a relaxing place to sit on a warm summers afternoon.

Down by the river is the old water mill, in which Kipling installed one of the first water turbine electric generators. The mill still grinds flour, but only on Saturdays at 2.00pm during the opening season.
Opening times:

The house, mill and garden is open from 4th April to 1st November,
except for Thursdays and Fridays.
For details of events phone (01892)-891001.